Not since the attacks of September 11 do I remember the news of something spreading so quickly.  Back then it was a call from my father waking me up with the news that the "U.S. was under attack!"
In the last eight years, things have changed.  …This time Social Media broke the story.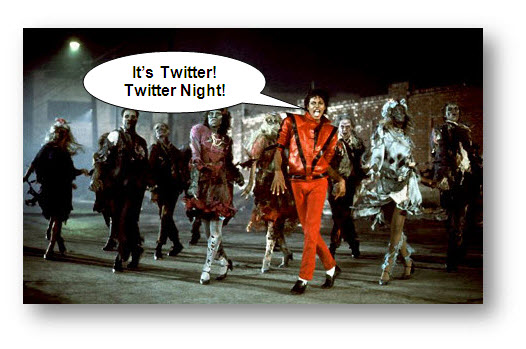 Here's my account of how this historical news reached me and how I passed it on.
(All times are Mountain Time, Denver)
At 3:15 pm (21:15 GMT) – I saw this Tweet that Michael Jackson suffered Cardiac Arrest, which had been posted at 2:36pm (20:36 GMT).  Later it becomes known that Twitter crashed under the weight.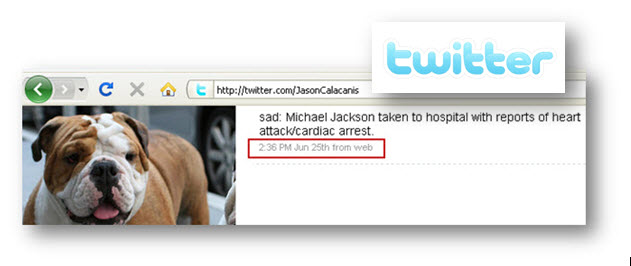 Little did I know that posted at 2:04 pm (20:04 GMT) was a Tweet I had missed from WeirdNews out of Japan (freaky Michael Jackson lovers over there for sure).  Funny that that was posted six minutes prior to when it is said that x17online.com was the first site to have posted a brief story with pictures at 2:10 pm (20:10 GMT).  (Reference link at bottom of this post for a timeline).  …Was @weirdnews really the site that broke the story??? Well yes, but it's not much of a story, just a Tweet with no authority.

It turns out the call to 911 happened at 1:21 pm (19:21 GMT).  So it took only 43 minutes between the call to 911 and it hitting my desk on Twitter.  That's pretty fast.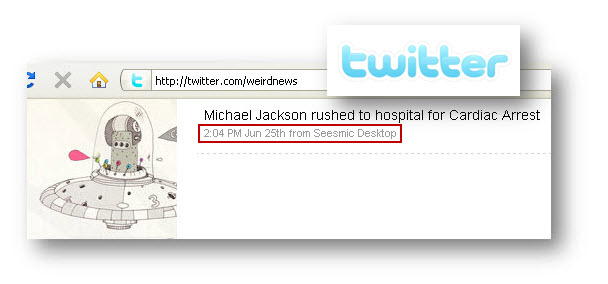 At 3:18 PM (21:18 GMT) I Google it and post the ONE Google News result I saw on Facebook.  Later it comes to be known that due to the sudden spike in traffic, Google thought it was the target of a Distributed Denial of Service (DDoS) attack.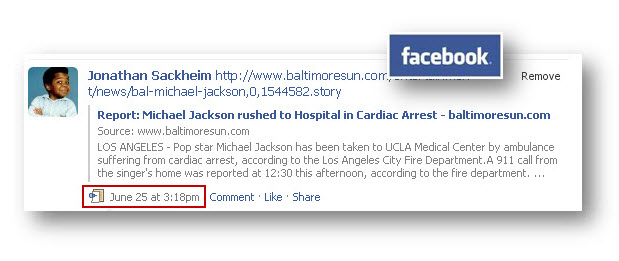 At 3:50 pm (21:50 GMT), some reps arrive at the office and one of them tells me that she just saw on her Blackberry that Michael Jackson died according to the TMZ blog.  That news had broken at 3:20 pm on TMZ…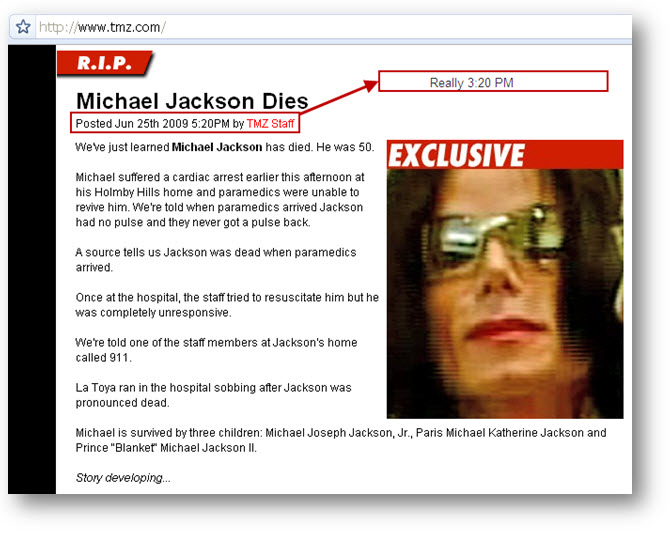 At 3:55pm (21:55 GMT) I start seeing the other posts come in via Facebook.  Props to Courtney Walsh (@CourtneyWalsh) for being the first in my news feed to break his death.  She posted it 35 minutes after it broke at TMZ.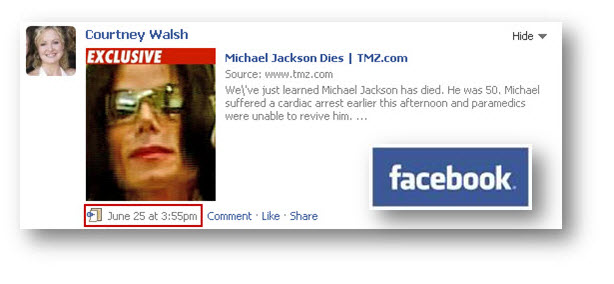 At 4:15 (22:15 GMT) I get a text saying "Michael Jackson just died of cardiac arrest!"  …Pfffff, text message, so old fashioned and slow.  🙂
Here's the summary of how it went down for me:
Saw news of his cardiac arrest on Twitter
Confirmed it via Google News and posted the story to Facebook
News of his death came via word-of-mouth which came from a mobile phone from a Blog (TMZ)
The Facebook posts roll-in
Text message
Old's Cool? It's also worth noting that traditional media is holding strong.  Out of nine Facebook friends whom I surveyed, almost half heard about it in an offline manner:
3 heard about it on the radio
3 online news (online newspaper, CNN.com)
1 on Facebook
1 Twitter
1 Word of mouth
Wrap-up: Michael Jackson's death is the perfect case study in how Twitter has nabbed the top spot for quickly spreading the news.  Google is becoming less relevant (see the article below) when compared to Twitter but still serves as a way to help validate the sometimes sketchy news that spreads on social media.  Also, traditional news sources like the radio aren't going away anytime soon.
For more reading, here's a great account about how the news of Michael Jackson's death spread across the Web.
How did you first hear of the news?   Also, my Twitter is @jonnysack.