Here's my entire Facebook marketing worldview for businesses in one document, totally free.
This presentation took a lot of work to create! Since I'm giving it to you free, all I ask is this:
Consider linking to my blog: www.jonathansackheim.com (use link text related to Facebook marketing)
Follow @jonnysack on Twitter
Click the Facebook "Like" button at the bottom of this post
That's it.  I hope you enjoy the eBook!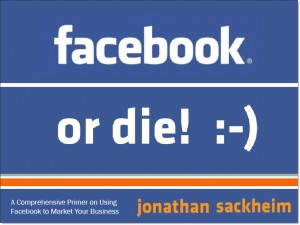 I first presented this eBook to a group of online marketing pros in Denver (SEMPO).  Therefore,  I included more than just basic info and it's geared toward an audience that has some experience with Facebook marketing. (Please click Like below).
-Jonathan
p.s. you can reach me at sackheim at gmail dot com if you have online marketing questions. Here's my LinkedIn profile.