Huge changes are here with the new Facebook page layout in 2012, we have until March 30 to adjust.
Top five tips for page admins below!

1. Facebook Fan Gates are going away!
Direct from Facebook: "You can't change the default landing view to another view or app, but you can link people directly to a particular view or app on your Page."
What this means: you can no longer have non-likers dropped onto your fan gate by default, assuming they come from with Facebook.  Boo!  The app will still exist, but not as a default landing page.
Tip: If you're linking people from your website or elsewhere to your Facebook page, you can hardcode the destination URL to drop people onto the fan gate page!  That will leverage some of the existing capability, but it will also push existing likers to the "wrong" spot, as you'd like them to get to your wall, so keep that in mind as a tradeoff.    To work around that, you can update your fan gate to say "If you're already a fan, visit our wall" with an arrow to the wall link.
2. Cover Photo
Direct from Facebook: "Cover photos are 851 pixels wide and 315 pixels tall. If you upload an image that's smaller than these dimensions, it will get stretched to this larger size. The image you upload must be at least 399 pixels wide."
What this means:  start right away on designing an image that captures the nature of your brand and causes an instant desire to like your page.
IMPORTANT NOTE: a call to action is against Facebook's terms and conditions, so this technique is risky, not advisable for large brands.  To recover from not having a fan gate, aka Facebook page reveal, some may be tempted to use the cover photo as a fan gate replacement by having it point to the like button. (Note: Example text and arrow was added by me, it's not a literal example from their page).   Don't do this unless you run a small page, even then it's risky.
3.  Pinned Posts
Direct from Facebook: "A post a Page admin pins to the top of their Page will remain there for 7 days. After that, it'll return to the date it was posted on the Page's timeline. Posts from people who like a Page are not eligible to be pinned posts. Page admins can only pin posts created by the Page."
What this means: This is great! As an admin you can control what goes at the top of your page.  Be sure to pin something at least once a week.  You'll see a small orange flag on pinned posts.
Also, you can widen a post: Hover over a story and click on the star to make it wider. This is great to highlight your best pics.
How to pin a post: Click the pencil icon in the upper-right corner of your Page's post. Then select "Pin to Top.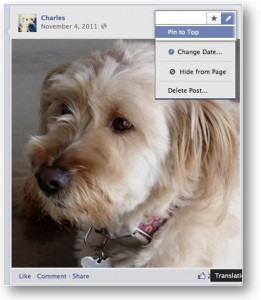 4. Page Apps
The "Photos" app will be required on the left, but you can select any of these three on the right: Likes, Videos, Events, Map and a Page's custom apps.
What this means:  This is a huge win for page owners (and app developers) who want to highlight custom apps.  Put your key apps or content here.  This gives a lot more incentive to develop a custom app.   ALSO, update your App icons and names to describe the app's purpose.  As you can see with Ford below, it's totally unclear what the apps do.
How to set this up: click the drop-down icon to the right of the tiles, click the '+' button to import your custom apps, and then hover over them and click the pencil to move them around.

5. Private Messages from Fans
Fans can now send you private messages.  This is huge for being able to handle a side discussion, especially one that you don't want show to all fans, such as a customer service issue.
What this means: Once you've published with your new format, make sure you announce this new feature to fans.
It's on by default, but if you want to turn this off, go to 'Manage' >> 'Edit Page' >> 'Manage Permissions,' and unchecking the 'Messages' box.
More Info
Summary
Those are my top tips to get started today.  I'll continue to update this guide to the new Facebook page layout – a reminder that it's required by March 30, 2012.
Please leave questions below as comments and I'll work to answer them soon.
—————————————–
P.S.  For more online marketing tips, find me on Twitter @JonnySack.